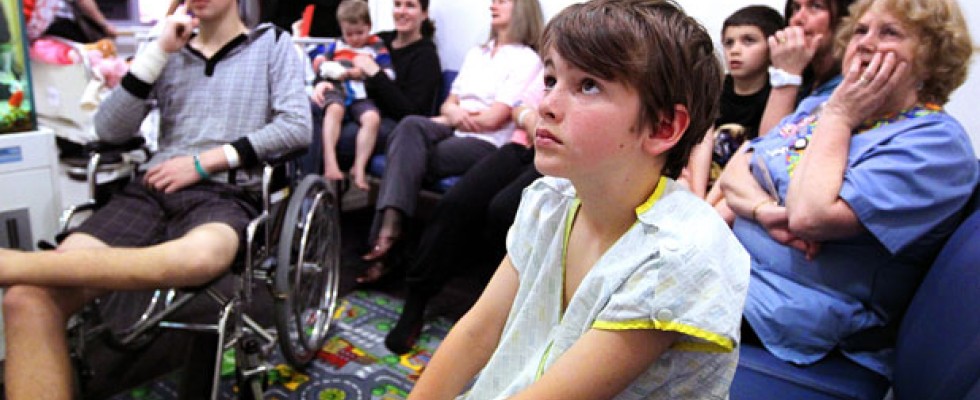 They were leaning for Dean in the children's ward at Taranaki Base Hospital yesterday.
A group of dedicated America's Cup race watchers, patients and staff, gathered together hoping to watch Emirates Team New Zealand sail to victory.
Instead the Kiwis suffered another agonising defeat.
One wee boy summed it up when he pointed to Team New Zealand and said: "They are not in the wind."

There was a collective groan when a change of camera angle revealed the boats to be even further apart than people were desperately believing.
Sebastian de Montalk, 9, enjoyed watching the boat go up on the foils.
"It's cool that they don't tip over."
Team New Zealand haven't got worse, he said.
"We are the same, basically. USA has improved."
Sebastian has watched most of the races even though he wasn't a big yachting fan before the America's Cup. Soccer is his thing. He won Most Improved Player in his Central School team.
But now he is enjoying the racing despite Team New Zealand's bad run.
Karleigh Moir, 6, was wheeled out in her bed to watch the race. However, the lure of a new iPad proved too great and the racing didn't get a look in.
Her Dad, Craig, was a lot more interested.
"It's been tense," he said.
Oracle was just metres from the line when CJ the Clown arrived for a visit.
As room was made for him to sit down, he noticed the state of play and changed his mind.
Instead he wandered off down the corridor to cheer up the other children who were watching in their rooms.